Jiddisch musikk Yiddish music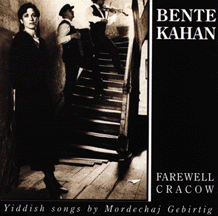 Bente er skodespelar og musikar (song og gitar) frå Oslo med jiddisch musikk og annan jødisk musikk som spesialitet og driv Teater Dybbuk. Ho held konsertar bl.a. i Norge, Nederland, Tyskland, Israel, USA... Bestill plater av Bente på nettet. /
Bente's an actress and musician (song & guitar) from Oslo, Norway with Yiddish music and other Jewish music as her specialty. She's frequently touring Scandinavia, Holland, Germany, Poland, Israel, USA... Order her music on the web.
Skrivarstuå ©2000–2003 Olve Utne
Oppdatert (Updated) 30. januar 2003 - 28. shebát 5763