Welcome!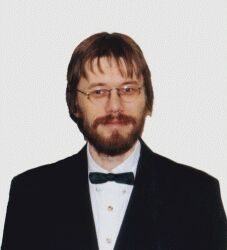 Welcome to my Early Music resource web site. The site is brand new as of September 2005, so please expect frequent updates and expansion of contents.
Brief introduction
My name is Olve Utne, and I play the Baroque Violin and the Baroque Viola. I have a Cand.Philol. degree (roughly equivalent to an advanced thesis MA) in Musicology from the University of Oslo (1996), with Arvid Vollsnes as my advisor and Richard Gwilt as my Baroque Viola teacher. I have also studied one year as a guest student at the Early Music programme of the Koninklijk Conservatorium Brussel (Royal Conservatory of Brussels) in Belgium on a Flemish State Scholarship (1997/98).
My main teacher in Brussels was François Fernandez — a violinist with a truly stunning technique, great musical insight and an open mind. I consider it a true honour to have had the chance to learn from him.
Orchestral practice includes playing the viola in the Oslo Baroque Orchestra, leading the 2nd violins and violas in Lofoten og Vesterålen Orkesterforening, and participating in various orchestral projects during my year in Belgium. Of those projects, the three that I feel I learned the most from were the Beethoven concert (4th Symphony, 5th Piano Concerto, Egmont Ouverture) conducted by Phillippe Herreweghe; the C.Ph.E. Bach concert (two symphonies and two cello concertos) lead by the impressively virtuoso Baroque cellist Hidemi Suzuki; and Haydn's oratorio Die Schöpfung, conducted by Sigiswald Kuijken — a baroque violin pioneer and conductor whose orchestral leading skills and insight in Haydn's music is truly exceptional.
Specialities
Baroque Violin & Baroque Viola
Historical pronunciation
In connection with my research project The Converso Oratorio, I have worked a great deal with historical transliteration of Hebrew in musical scores from the 17th Century till our days as well as on the representation of Spanish (Castilian, Ladino) in older Hebrew sources. In addition to the angle of contrastive phonology, I have looked at internal evidence in the historical orthography, including misspellings, hypercorrect forms, etc.
Tutoring
I have seven years of experience in tutoring violin, viola and piano students on elementary through high school level, as well as some experience teaching chamber music theory at the Music Conservatory of the University of Trondheim, Norway.
If you are living near Rockville Centre or elsewhere in the Nassau County—Brooklyn area, and you are currently looking for a teacher, please feel free to contact me.
Contact information
Location: Rockville Centre, Nassau County, Long Island, New York, USA
E-mail: olve.utne@gmail.com